3 modes of water pressure for your best shower experience!
The New Shower Head is a THREE MODE shower head that is PRESSURIZED and can rotate to 360°. The upgraded version of this showerhead delivers up to 200% more water pressure, soothing away aches, tension and mental fatigue at a 35% reduced water cost. Moreover, It can also turn into a hose for BATHROOM CLEANING giving the same pressure needed to SPRAY AWAY the stains and dirt from your bathroom.
This product has been vigorously tested by our professional team of US showerhead experts to highest US quality and performance standards.
It improves the water pressure by 200% and saves your water cost.
This functional showerhead SAVES WATER as the PRESSURE combines the water with AIR to make it enough for your need but saves water from overflowing. It is equipped with 180 tiny laser-cut water holes, resulting in luxurious high-pressure water while still looking after the environment by saving water consumption. Tiny water holes on the strong stainless steel head panel with water-saving effect. Laser perforated technology feature with a flow rate of 6.7-6.8L/minute at 0.25Mpa. Saving the environment, while saving money at the same time. 
Easy Installation
No need to call a plumber.  3 In 1 High-Pressure Showerhead can be easily installed without tools. It is COMPATIBLE with all US STANDARD shower hose and shower accessories.
Features
Have a spa shower experience in your bathroom!
Three modes: According to different scenes and preferences, adjust the water mode. Three modes that can GIVE you the BEST SHOWER EXPERIENCE: First is the RAIN mode - Water area is big, water current is exquisite, let you purify the exhaustion of a day, taking relaxed sleep. Second is the SURFING mode as it sprays like a HEAVY RAIN giving you a LIGHT touch with the FULL amount of water enough to QUICKLY and FULLY rinse your body. The last mode is the PULSE mode where the water is at its FULL PRESSURE but enough to SOOTHE your ACHING MUSCLES. 

A key switch: Humanized design, convenient and quick. One key stop water once opens and uses.

Universal rotating: 360 degrees rotating around.

Detachable design: The flower is aspersed use long if water outlet can appear, block a phenomenon. Just remove the stainless steel panel for cleaning.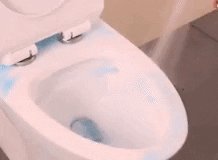 Customer questions & answers
Question: How 's quality?
Answer: Its better than those I bought from Amazon, I bought one two months ago, very strong currents.
By Joe Reid on June 20, 2019
Question: How to install it? Thanks in advance!
Answer: It is very easy to get the showerhead in/out of the mount, It's as easy to install as any normal showerhead. Just unscrew the old one and screw on the new one.
By Rebecca J on July 5, 2019
Specifications:
Type: Portable 360 degrees rotating three-mode pressurized shower head
Quantity: 1pc
Material: ABS and stainless steel
Color: Electric plating golden/ Electric plating silver
Heat temperature: 100 ℃
Size: 80*240mm/3.1*9.4" (L*W)
Net weight: 210g/7.4oz
Package:1* High-Pressure Showerhead 3 In 1